GAMING HEADSET GENESIS RADON 300 VIRTUAL 7.1 BLACK-RED USB
GAMING HEADSET GENESIS RADON 300 VIRTUAL 7.1 BLACK-RED USB
Deferred Payments. Buy now, pay in 30 days, if you don't return it. More information
Buy now, pay later - 4 steps
When choosing a payment method, select PayPo
PayPo will pay your bill in the store.
On the PayPo website, verify your information and enter your social security number.
After receiving your purchase, you decide what suits you and what doesn't. You can return part or all of your order - then the amount payable to PayPo will also be reduced.
Within 30 days of purchase, you pay PayPo for your purchases at no additional cost. If you wish, you spread your payment over installments.
Easy return of products within

14

days from the date of purchase without giving reasons
Free delivery from

$750.53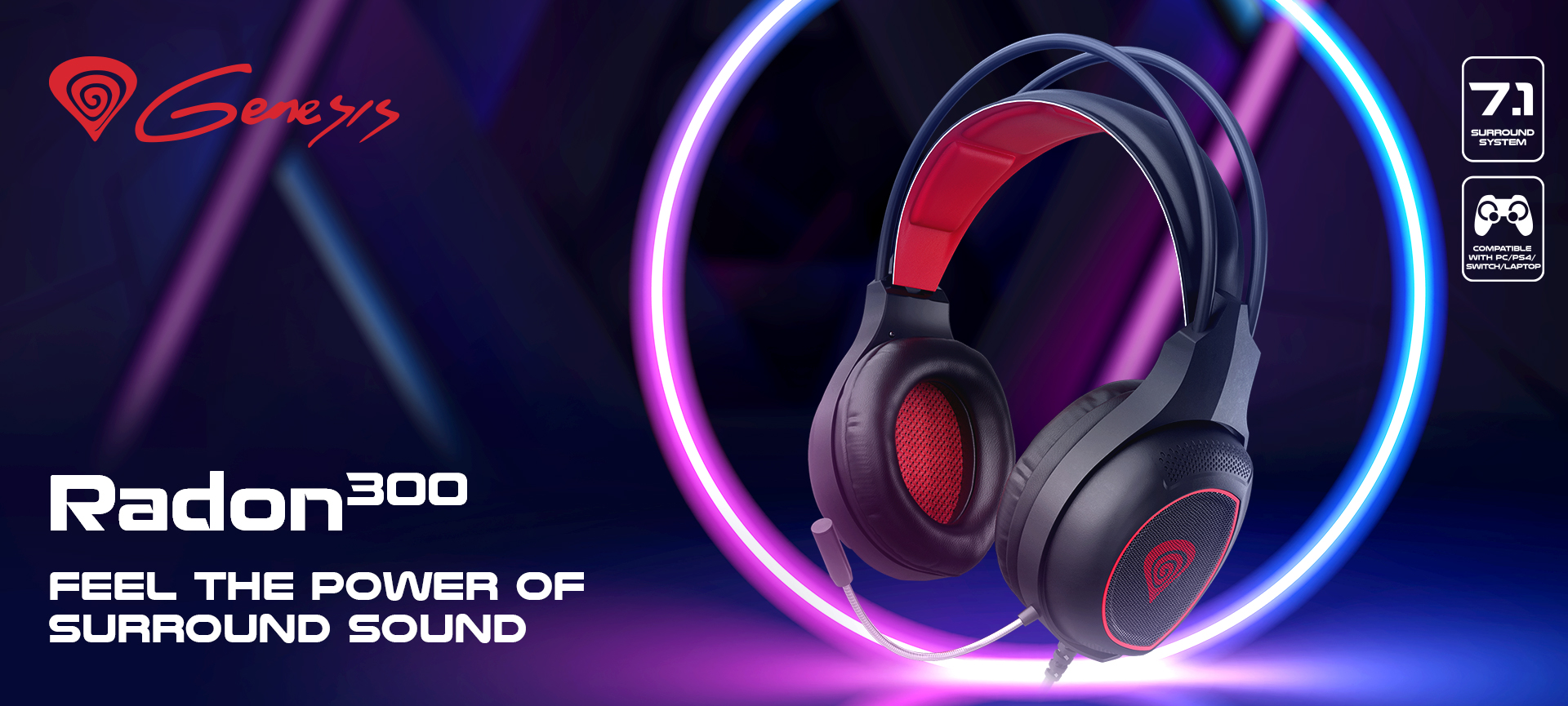 TOP

QUALITY

A reliable headset is an essential part of every gamer's equipment. The integrated sound card with 7.1 surround sound allows you to get even closer to the virtual gameplay world. Comfortable, large ear cups to encapsulate the ears, an omni-directional microphone, impressive LED backlighting and high damage-resistance are the main features that distinguish this headset. Radon 300 is designed to meet the requirements of the most demanding gamers!
POWERFUL

SOUND

The headset features a 7.1 surround sound system to increase the effectiveness of your gaming experience. The 40 mm speakers with 115 dB capacity deliver a strong and clear sound, an essential for real gamers.

LET THEM

HEAR YOU!

Radon 300 features a sensitive microphone, which ensures the highest quality in communications with other players. The microphone is also extremely flexible, which significantly improves the convenience when issuing important military commands.

LED
BACKLIGHT
The Genesis-style red LED backlight gives the right gaming character for the Radon 300 headset. The clear design will make you stand out from the crowd, and this headset will definitely not go unnoticed.

MODERN

DESIGN

Modern design is not always in step with comfort? Not for Radon 300! The large, comfortable drivers are covered with eco leather. The padded headband allows you to enjoy using the headset for hours! With a 2 m textile cable you can forget about tangling cables and instead enjoy their longer life.