NETWORK ATTACHED STORAGE TOWER, 10-BAY, ASUSTOR AS-7010T
NETWORK ATTACHED STORAGE TOWER, 10-BAY, ASUSTOR AS-7010T
Easy return of products within

14

days from the date of purchase without giving reasons
Free delivery from

$775.23
ASUSTOR AS7010T A High-Capacity NAS Designed for the Prosumer, 10-BAY

A 10-Bay Premium NAS Server Designed for Demanding Enterprise and Multimedia Applications - Powerful Intel Core i5 dual-core processor ensures top-notch reliability and stability - Windows ACL support combined with Windows AD infrastructure enhances management efficiency for business applications - Support for RAID 0, 1, 5, 6, 10 and hard drive hot swapping - 10GbE Ethernet card and memory expansion slots allow for further expansion as the need arises - New disk tray locks ensure that hard disks will not be accidentally ejected during operation - SMB 2/3 support increases Windows networking performance by 30%-50% Advanced File Permissions Management - Windows ACL For IT professionals, file permissions configuration is a very important topic, especially in enterprise environments. Because the native Linux system file permission mechanisms are different than those in Windows, in the past, IT professionals had to create a separate set of permissions for files stored on NAS servers. This also limited the number of permission configuration options that were available to them. In order to help IT professionals simply their work, ASUSTOR has comprehensively integrated Windows ACL into ADM. Windows ACL provides a set of 13 different permissions settings, allowing administrators to configure permissions for individual files and folders that can be applied to different groups and users. Windows ACL permissions can be configured from within ADM's File Explorer or Microsoft Windows Explorer allowing administrators to easily manage permissions using familiar methods.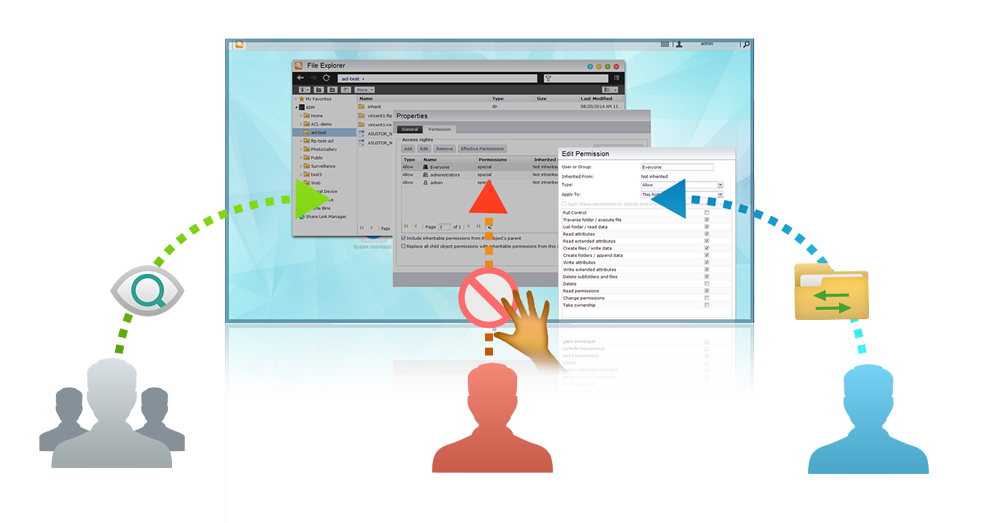 Meeting the Expansion Needs of Tomorrow, Today The scale of a business's Internet usage will shift in the wake of its expansion and development. A server that is providing stable service to 100 people today may not be able to handle the needs of tomorrow when the number of employees or applications expands, forcing the business to purchase additional equipment. ASUSTOR's 70 Series devices help businesses meet the expansion needs of tomorrow, today. All devices in the series come equipped with 10GbE network card expansion slots. Should a business decide to upgrade to an ultra-high-speed backbone network, the 70 Series devices will be able to seamlessly take advantage of this without being limited by the built-in gigabit Ethernet ports. Furthermore, when more and more people start to access the NAS or when the number of installed applications increases, the amount of installed memory will be one of the limiting factors affecting the overall performance of the NAS. The AS7008T and AS7010T both come with 2GB of built-in memory which can further be expanded to a maximum of 16GB. Equipped with such flexible expansion features, ASUSTOR's 70Series NAS devices are the optimal choice for any growing business.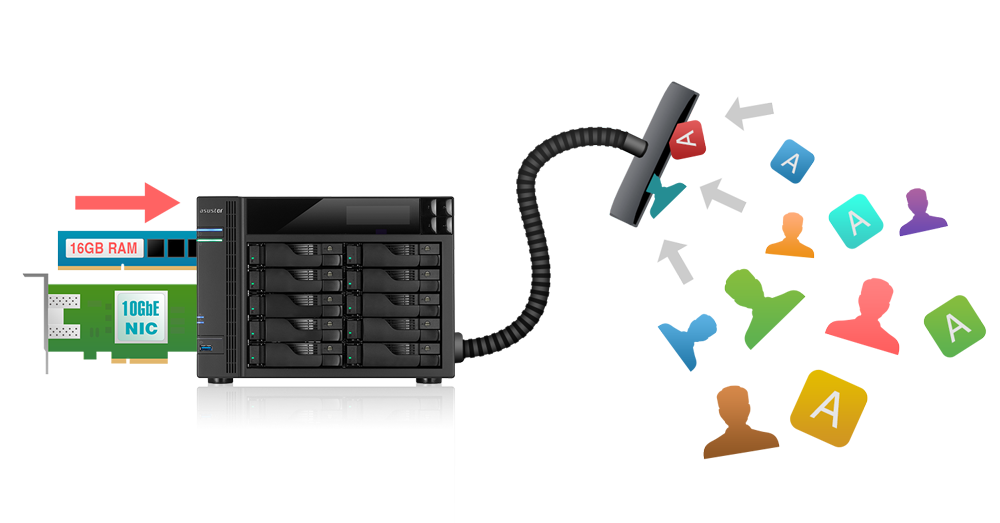 A Surge in Data Transfer Performance ADM 2.6 supports SMB 2.0 which reduces the burden of network traffic on the NAS while simultaneously providing greater data transfer capacity.In the ASUSTOR testing environment, SMB 2.0 was found to increase Windows networking performance by 30%-50%*. SMB 2.0 also significantly increases the number of concurrent Windows client connections and simultaneously open files, making ADM 2.6 even more suitable for large-scale Microsoft network environments.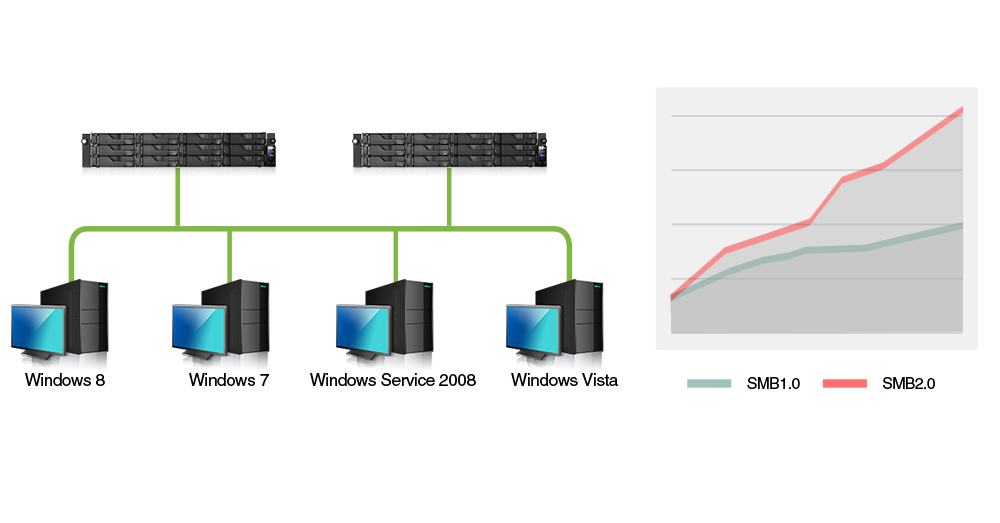 Optimized Cooling Design When there is a high load on the NAS, the CPU will begin to heat up, affecting the stability of the system. A common way of dealing with this is to lower the CPU frequency which will then cause the temperature to decrease. However, this will also lower the overall performance of the system. ASUSTOR's 70 Series devices utilize fans with wide speed ranges combined with a smart speed control mechanism that allows the CPU to maintain a controlled operating temperature even under high loads. Under most circumstances the fans will operate at a low speed, conserving energy. When the system load and temperature increases, the fans will automatically increase their speed to cool the CPU without it having to lower its frequency. This allows the NAS to maintain stability and high performance even under high loads.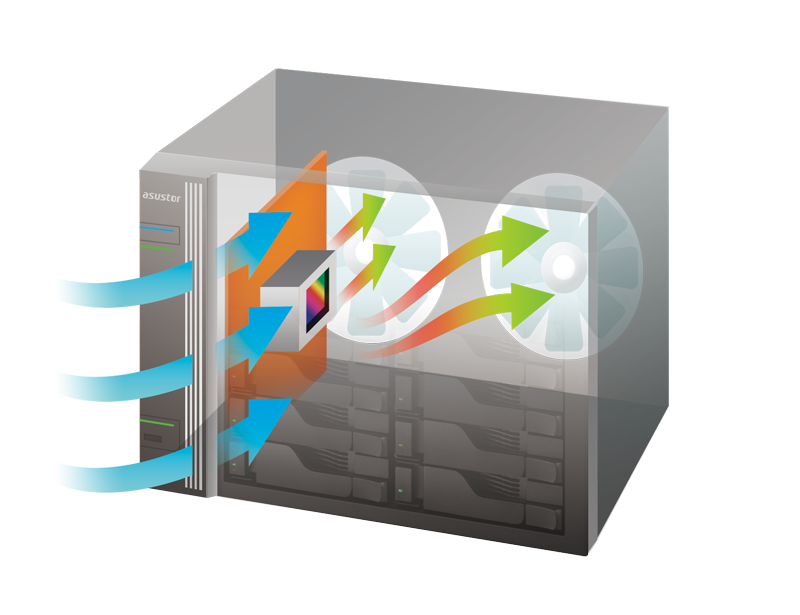 Extreme Multimedia Playback No matter if it's 4K or 10bit, XBMC 13 paired with the Intel Core i5 dual-core processor's powerful built-in graphics engine gives you the ability to play any video files with ease. Get ready to enjoy brilliant and flawless images on ultra high resolution monitors. Additionally, you can also further add a surround sound amplifier to create an unprecedented high definition multi-channel listening experience. Imagine watching your favorite racing movie and being immersed in the roar of the engines. Feel the thrill and the sense of speed as you listen to the sounds of cars whizzing by. Prepare for an unparalleled entertainment experience that will have you on the edge of your seat.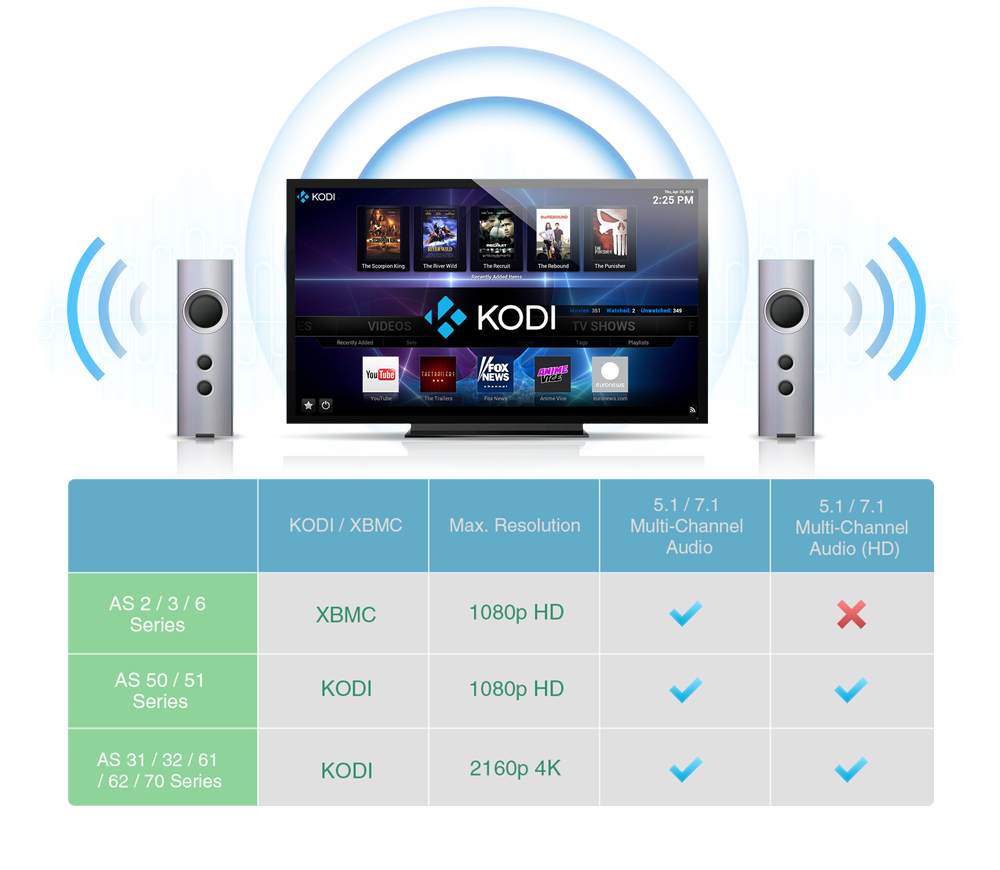 Expand your storage space A professional grade NAS needs to be equipped with a diverse array of expansion functionality. In addition to the 10 drive bays, we have also included 2 USB 2.0 ports, 3 USB 3.0 ports and 2 eSATA ports, allowing you to create a tailored storage space for both your work and entertainment needs.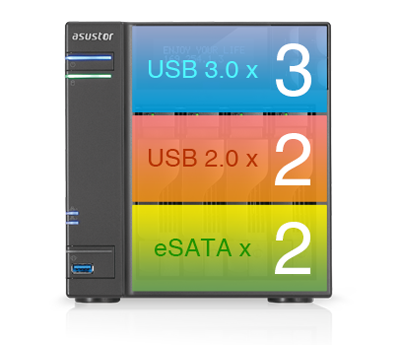 Secure Disk Tray Lock Design In order to help users avoid accidentally pushing disk tray buttons and releasing hard disks during operation, ASUSTOR has added a new lock mechanism to its hard disk trays. The lock's flat-head design ensures that users will not need any special keys or tools to unlock it, only a simple flat-head screw driver. The new disks trays can be used with all ASUSTOR NAS devices, providing an additional layer of security for applications requiring the frequent swapping of hard disks (e.g., MyArchive).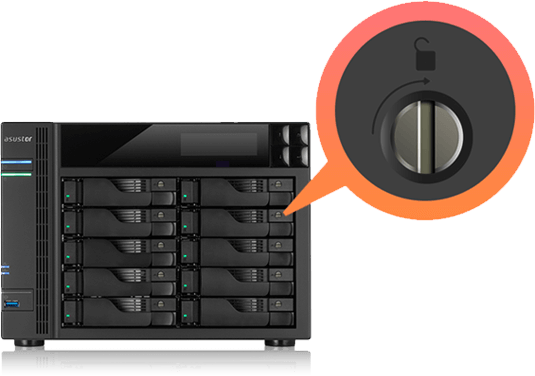 We've got it Ready: 4K Ultra High Definition ASUSTOR Portal offers complete support for 4K ultra high definition output. With 4K ultra high definition, the desktop background and icons appear clearer and sharper giving you a luxurious and immersive visual experience.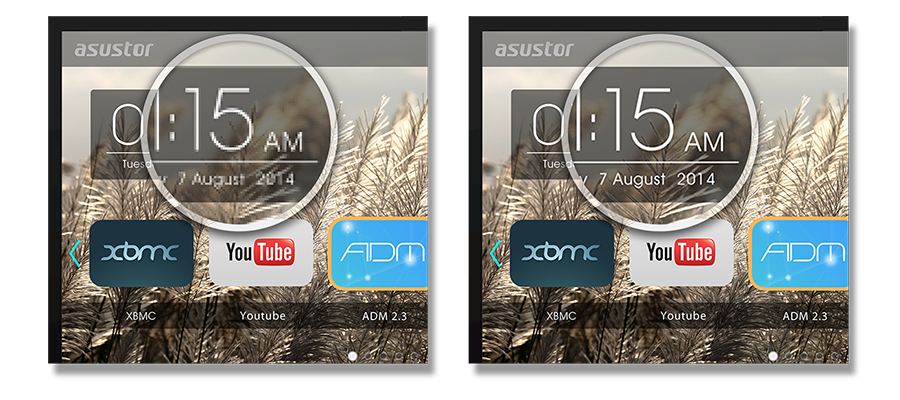 Create a Stable, Reliable and High Quality Surveillance System The powerful 70 Series devices provide you with stress free reliability when installing a surveillance system in your home or office environment. Installing the Surveillance Center App from App Central instantly turns your NAS into 24/7, high definition surveillance system. Surveillance Center provides comprehensive cross-platform support, allowing both Windows and Mac users to use familiar web browsers to access their surveillance feeds. Furthermore, ASUSTOR also offers the free AiSecure mobile app that gives users access to all their surveillance feeds while on the go. AiSecure also provides the ability to receive instant push notifications from Surveillance Center, allowing users to keep up with the latest developments. No matter if you need to protect individual assets, loved ones or your business, the powerful 70 Series devices are your optimal choice when creating a comprehensive surveillance system.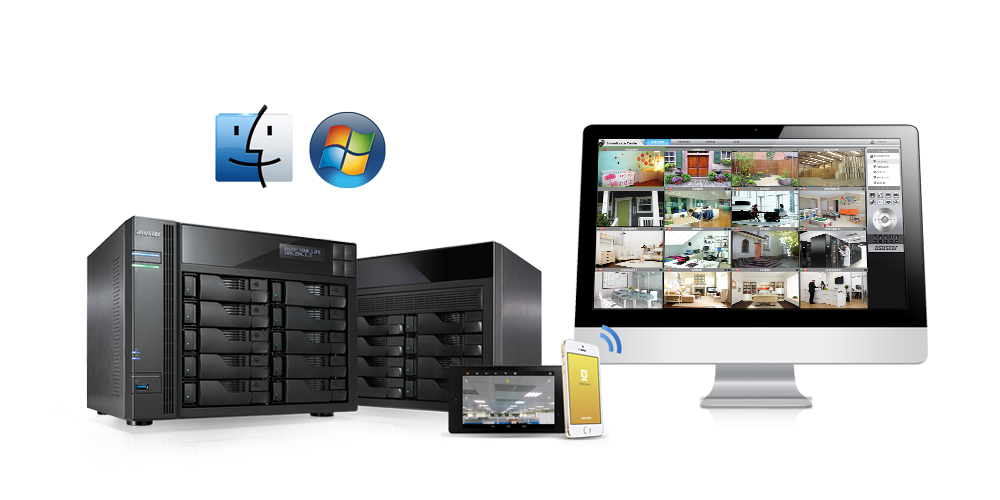 High Quality Audio Output with S/PDIF Turn your NAS into your digital music hub and let ASUSTOR's 70 Series devices take your local audio playback to another level. You can use SoundsGood or iTunes Server to play high quality digital music from your NAS and further combine it with S/PDIF high fidelity optical output for an unmatched listening experience that will truly bring your music to life.
Even More Reliable After-Sales Service ASUSTOR has extended the warranty period on all of its products to three years, continuing to make customer service a huge priority. It is ASUSTOR's mission to continue to provide its customers with products of the highest quality along with only the most reliable and attentive after-sales service and technical support.